Marble radiant panels are intended for the heating of reception areas and halls, but also for bathrooms and typical living rooms.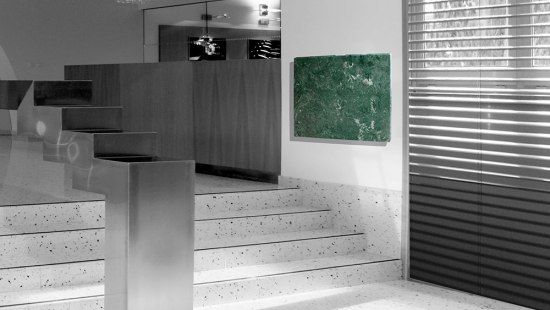 MR marble heating panels
MR marble heating panels
The heating panel is made of massive 3 cm polished marble board, a heating element, a limiting thermostat and a supply cable. The panel is intended for fixed installation on a wall with its supply lead attached to a wiring box, and a selection of several kinds of marble is available. As it is a natural material, deviations in the colour or in the structure of the material may occur with the panels. It is possible to hang the panels width-wise or height-wise; mounting brackets are part of the packaging. The operation of heating panels should be controlled with suitable regulation.
MR panels
Type
Output
Voltage
Rating
Dimensions
Weight
Quantity on pallet / in crate
Cat. No.
[W]
[V]
[IP]
[mm]
[kg]
[pcs]
Madura (beige)
300
IP 44
230
500 x 500 x 30
22.2
10/22
5438282
500
700 x 500 x 30
31.2
10/20
5438283
800
900 x 600 x 30
48.2
5/11
5438284
1000
1100 x 600 x 30
64.0
5/11
5438285
1200
1300 x 600 x 30
76.0
5/7
5438286
Kashmir (creme)
300
500 x 500 x 30
21.7
10/22
5438292
500
700 x 500 x 30
30.2
10/20
5438293
800
900 x 600 x 30
47.2
5/11
5438294
1000
1100 x 600 x 30
63.0
5/11
5438295
1200
1300 x 600 x 30
75.0
5/7
5438296
Verde (green)
300
500 x 500 x 30
19.2
10/22
5438250
500
700 x 500 x 30
27.2
10/20
5438255
800
900 x 600 x 30
42.2
5/11
5438260
1000
1100 x 600 x 30
56.0
5/11
5438265
1200
1300 x 600 x 30
68.0
5/7
5438270
Examples of operating costs