A family home in Žilina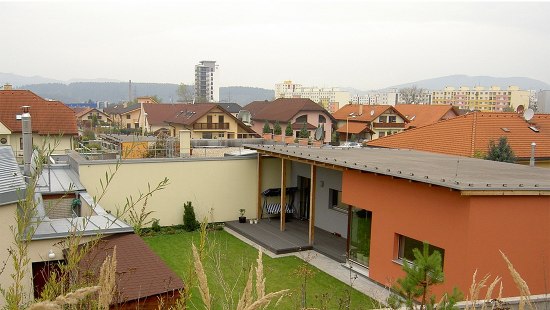 The house is situated in an area of family homes in Žilina. It's a single-floor house without a cellar, designed to suit the requirements of the investor as regards aesthetics and layout. It occupies a built-on area of 218.72 m². The home is heated with the aid of a combination of electric heating systems sold by Fenix.
Description of the building
The family home is designed as a free-standing structure according to the STN 73 4301 and STN 73 4305 standards. The house is single-storey, without a cellar, and contains five habitable rooms. The external walls are constructed using the Porotherm system, with 250mm bricks and 200mm EPS. The windows are wood-framed and triple-glazed. The layout of the building comprises an open-plan living room that also contains the kitchen and access to the terrace, a bedroom with an attached bathroom, two childrens' rooms, a guest room, a corridor with a WC and an unattached bathroom.
Details of the object
| | |
| --- | --- |
| Habitable rooms:  | 5 |
| Built-on area:  | 218.72 m² |
| Living space:  | 137.90 m² |
| Heating tariff DD5 - High tariff |  0.1663 €/kWh |
| Heating tariff DD5 - Low tariff  | 0.0763 €/kWh |
| Installed wattage:  | 9 900 W |
Heating
Heating is provided via a combination of several systems, including two floor heating products, i.e. Ecofilm F heating foils used under laminate parquet flooring (living room, kitchen, corridor) and Ecofloor heating mats in rooms with tiled floors (bathroom, WC). Aixance electric radiant convection heaters are used in the rooms and the system is supplemented with ladder radiators in the bathrooms.
Investment costs
The whole system was supplied at the listed price of 2.344 € including VAT. This sum includes Ecofilm, Ecofloor and Ecoflex heating systems with digital thermostats.
Operating costs
The energy entering the house is electric energy with storage water heating. There is a recuperation unit built into the building. The house is currently used by 4 people (2+2). As in every modern household, computers and other everyday appliances are present. The monitored consumption period (kWh) is characterized by year-long operation in the Žilina region, where winter temperatures lie within the -15 °C zone.
Period
Consumption
Low tariff (kWh)
High tariff (kWh)
19.11.2010 – 20.11.2011
1 132
13 836
17.11.2009 – 18.11.2010
1 105
15 357
15.11.2008 – 16.11.2009
1 081
14 909
13.11.2007 – 14.11.2008
966
14 909
 
Table for the building from the perspective of the Energy Certificate and real energy consumptionFloor surface
Floor surface
m²
Yearly energy consumption
kWh
Specific energy consumption
kWh/(m²*year)
Energy class
 
Total
€ incl. VAT
218
2010/2011
14 968
68.66
B
1 924,05
2009/2010
16 462
75.86
B
1 853,07
2008/2009
15 990
73.68
B
1 731,33
2007/2008
15 791
72.76
B
1 616,21
According to the consumption shown in the table above it can be stated that the building, with its use of Fenix electric heating systems and their correct combination, has met the requirements for category "B" low-energy houses ever since the heating system was commissioned. Due to its maintenance-free operation, the building fulfils the expectations of the investors regarding low investment and operating costs, and it also provides a high level of living comfort.