Heating cable systems ECOFLOOR
Electric floor heating is one of the most widely used ways of using electric heating cables. Resistance heating cables are ideal from the aspect of price, usability as well as system functionality in the applications in which they are used. Unlike warm-water systems, electric heating is easier to install, has higher flexibility and lower acquisition costs.
Buildings as active elements of the energy system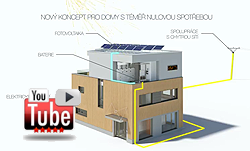 Houses with nearly zero energy consumption in the 2020 standard. Read here...