Heating cable systems ECOFLOOR
The range of Ecofloor heating systems is constantly expanding to include new products which can also be used in special applications, such as aluminium heating mats for use under floating floors in humid areas, cables for the hardening of concrete, heated rubber mats for protection against icing or floor coldness, and heating sheets for the warming of soil and other materials.
Buildings as active elements of the energy system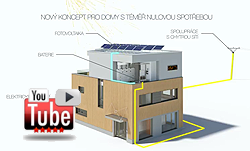 Houses with nearly zero energy consumption in the 2020 standard. Read here...