Heating cable systems ECOFLOOR
Winter places great stress on many buildings as downpipes and gutters are weighed down by ice accumulation. A good solution to these problems is the installation of electric heating cables for downpipes and gutters.
Resistance heating cables with sheathing which is resistant to UV radiation, designed for the protection of gutters, downpipes, roof valleys and roofs against snow and ice.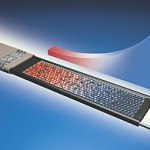 Heating cables which change their output depending on the surrounding temperature. Unlike resistance cables, they can be shortened to any length. They are intended mainly for the protection of pipes or roof gutters and downpipes against ice and snow.