Heating cable for semi-storage heating
Heating cables in a layer of thermally conductive material (anhydrite, concrete…). They are easy to install, even in surfaces with a complicated shape. They are particularly suitable for use as main heating systems.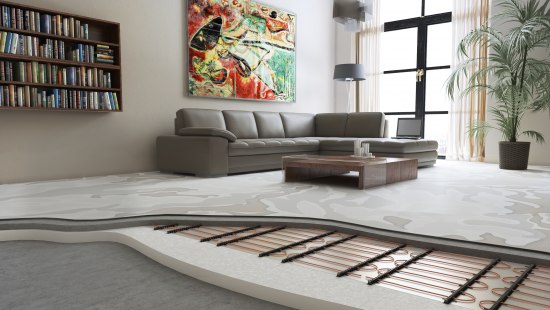 Heating cable for semi-storage heating
Heating cable for semi-storage heating
One of the advantages of this system is the lower acquisition cost of the heating cables – as the cable is placed in a sufficiently thick layer to ensure an even distribution of temperature, cables with higher linear wattage can be used (approx. 15 W/m), and so a shorter length with larger spacing is needed for the installation of the required wattage than if the cable had only 10 W/m. Also, PVC sheathed cables are used, which are cheaper than cables with Teflon-based sheaths. The cable does have a larger diameter, but it doesn´t matter in any way in this type of structure. The disadvantage of heating cables is that they are more complicated to lay – mainly in situations when the heating cable is supposed to be inside the load-bearing slab. This slab must be monolithic; if a layer of only 2cm were poured in the case of e.g. concrete, a heating cable was installed after the initial layer had set and subsequently a second layer with a thickness of 4cm was poured, there would be a very real danger that these two layers would separate after the commissioning of the heating cable and the floor would "rise". In the case of semi-storage and storage systems, it is also necessary to strictly follow the gradual start-up procedure for raising the floor temperature – the so-called first heating mode.
For semi-storage heating, we offer cable circuits with protective braiding (PSV, ADSV+ and ADPSV) with a linear wattage of up to 18W/m.
Examples of operating costs