Heating mats for direct heating systems
Heating mats are placed directly under floor tiling, in a thin layer of flexible sealant. They are easy to install and are highly economical to operate in connection with suitable temperature regulation. They are suitable for use as main heating systems as well as systems providing floor heating for added comfort.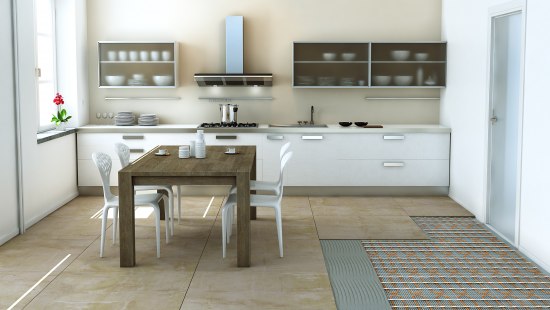 Heating mats for direct heating systems
Heating mats for direct heating systems
With regards to functionality, there is no difference between a circuit and a mat – a heating mat is basically a heating cable attached to a fabric base. These two products differ only in the way they are laid. The installation of a circuit is more flexible in nature, but also more demanding. Mats are easier to lay, and even spacing of wattage is guaranteed. However, mats are more suitable for regularly-shaped areas.
Direct heating is the most common type of application, used for main heating systems as well as for systems providing extra comfort via floor heating. The heating mat is placed directly under the wear layer, usually in flexible gravel or self-levelling screed. Cables with the smallest possible diameters and a lower linear wattage are used so that the spacing of the loops is small and the floor is heated evenly. One of the advantages of this system is its easy installation and higher flexibility of operation.  
For direct heating applications we offer heating mats with self-adhesive LDTS and LD tapes, LSDTS self-adhesive mats and ultra-thin CM mats.
For do-it-yourself installation, we offer the Comfort Mat set with complete equipment for the laying of floor heating.
Examples of operating costs