ECOFLOOR heating cable production expands with a new extrusion line
In August 2017 a fourth production line for ECOFLOOR heating cables was successfully brought into operation.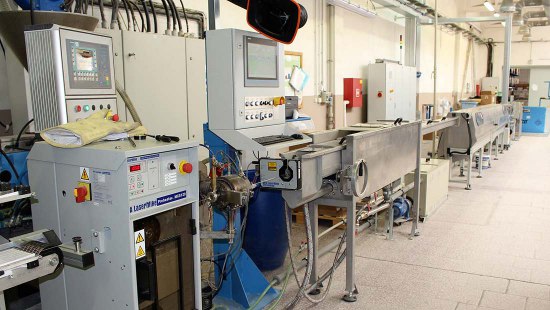 This August we successfully started up a new extrusion line for ECOFLOOR heating cables at our Fenix Jeseník plant. Our fourth extrusion line, it is intended for the production of heating cables with fluoropolymer insulation, which are primarily used in the production of heating elements for our ECOSUN radiant heating panels. Our existing lines no longer had the capacity to keep up with the continuous growth in infrared heating panel production, so we decided to acquire a new line with a maximum production speed of 300 m/min.
It is equipped with a Swiss-made fluoropolymer extruder and measuring devices from the British manufacturer Beta LaserMike. The other machines and the control system for the whole line were supplied by a Czech firm that specialises in cable production lines. The line is thus intended to be employed in the production of OV cables for our radiant panels, though it will also see use as an insulation line for ECOFLOOR heating cables.