FENIX V24 APPS for your smartphone
Fenix V24-APPS is an application that allows you to easily control and check your Watts wireless central regulation system. This is done via text messages, which are sent and opened within a graphic interface on a mobile communications device.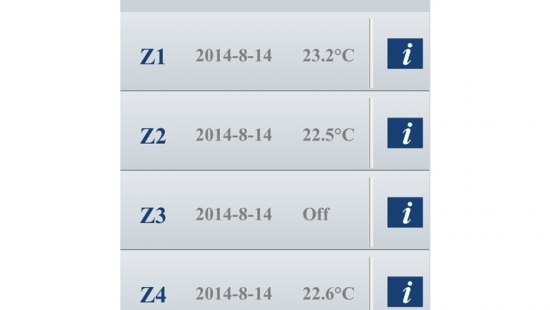 The creation and sending of requirements to your central regulation system is now just a matter of several "clicks", so you no longer have to write more complex text messages. Received messages also open within the application, where the information is clearly presented.
The application is available for the Android (version 4.1 and higher) and iOS operating systems. After downloading and installing the application it is necessary to select the correct message format for your operating system in the GSM settings of your Watts V24 central unit. Only one format can be selected at one time. This option is available in your central unit's software from version V0.18. You can find out the version of software currently running on your V24 unit in the menu – Settings → Installation → RESET, where it is displayed in the lower right corner. If you have an older version, you can send us your central unit – the part with the display is enough – for reprogramming. We will be happy to install the newest version of the software for you free of charge so that you can use the Fenix V24-APPS software. Please be aware that after the unit has been reprogrammed you will need to pair the individual regulation zones again.
We believe that the application will make it easier for you to use your regulation system, and that it will bring you complete satisfaction. If you have any questions whatsoever, please do not hesitate to contact us for technical support.
The application to control the GSM module Watts V27 via smartphone you found on APK (Android) or App Store (iOS).