Our new production line for stranded resistance wires
Stranding resistance wires ourselves – midway through last year we began producing our own stranded resistance cables for our Ecofloor heating cables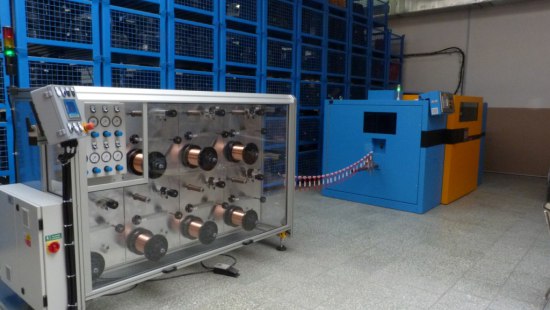 Last year we invested in a new production line for the stranding of resistance wires. The stranding machine itself is from a renowned German company, Niehoff, and the uncoiler was supplied by Cabmat, a leading Czech manufacturer for the cable industry. At present the stranding production line is constructed for the production of seven-wire resistance cables with the option of increasing production up to 24 wires.
Carrying out stranding ourselves improves our operational flexibility and gives us control over production. However, the primary result is an increase in the quality of our Ecofloor heating cables while keeping prices reasonable. This investment has brought a change in the construction of cables for outdoor applications: we have switched over from one-wire to stranded seven-wire resistance cables in the most widely used type of ADPSV. In the case of MAPSV and MADPSP cables we are also gradually moving from the original three-wire resistance cables to our own seven-wire cables
In connection with this structural change in heating cables, on 1. 4. 2015 we changed and widened the performance range of heating circuits and mats for outdoor use that we offer. A new range of ADPSV 30 W/m heating circuits and ADPSV 300 W/m² heating mats is now being offered, intended primarily for the heating of open areas. 
The previously sold range of MADPSP heating circuits and MDT heating mats will be sold off and replaced by a range of MADPSP 40 W/m heating circuits and MDT 400 W/m² heating mats which are likewise designed for the heating of open spaces, and particularly for placement in asphalt.