TERRACED HEATERS ECOSUN TH 2000W & 3000W
The ECOSUN Terrace Heater series has grown with two new performance types. We have prepared for you the improved ECOSUN TH 2000W and 3000W terrace heaters, thanks to their new construction they have a 40% lower body weight.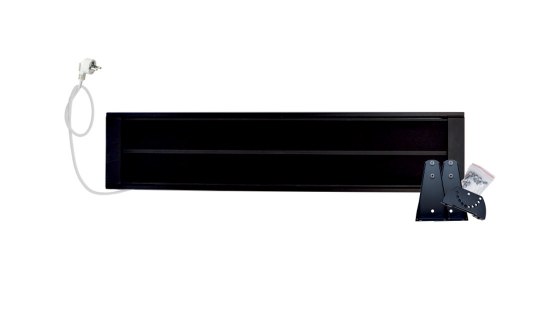 We have received very positive feedback from all over the world on our 1000W and 1500W ECOSUN TH terrace heaters. These heaters are designed for zone heating of conservatories, enclosed balconies, terraces, pergolas, garden tents and similar structures which are protected against direct weather effects. The advantage of ECOSUN TH heaters is that they have a significantly lower surface temperature compared to halogen heaters, and their operation is not accompanied by an unwanted light radiation, compared to halogen heaters.
Due to the great popularity of these radiant heaters, we have decided to expand our range of these heaters with two more models, namely 2000W and 3000W. With these two new models of patio heaters, we have met the requirements of our clients who do not have enough space to install more panels and who need to heat a larger zone.
The body of the ECOSUN TH 2000 and 3000W radiant panels is made of aluminum. By changing the body material, the weight of the skeleton structure for these two types was reduced by 40%, without affecting its functionality. Two aluminium heating lamellas are placed in the aluminium bodywork. The surface of the slats is painted with a special black matte paint that is suitable for painting high-temperature panels. This coating has anti-corrosion features and high emissivity. The casing of the panels and the heating lamellas are in a matte black design, the panels are also equipped with a 2 m long cold lead terminated with a plug. In the package, you will also find tiltable wall brackets, enabling the installation of panels in different angles. The recommended minimum installation height is 1.8 m above the floor level (bottom edge of the panel). There should always be a distance at least 30 cm between the upper edge of the panel and the horizontal structure.
These two new series will be a great help for you in moments of relaxation, when you want to extend your outdoor stay to the maximum.
Terrace heaters ECOSUN are intended for at least +5°C and above.
Link to see the next information here...