TFT Wi-Fi news
Two years have passed since the launch of TFT Wi-Fi thermostats on the market. Thanks to feedback from users, we are constantly working on adjustments and improvements, and adding other features.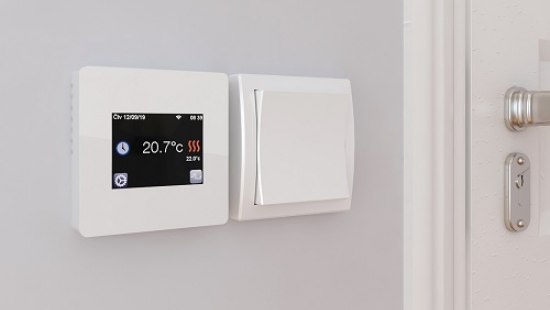 A major thermostat firmware update to version 1.05 is currently ready (the update will take place automatically for thermostats connected to the cloud).
Professional Mode
In addition to several adjustments, the update will mainly bring a new mode for use in, e.g. hotels, guest houses or public areas where unauthorised changes to thermostat settings are not desirable. This "Professional Mode" is activated via the thermostat menu. After its activation, the appearance of the thermostat´s initial screen changes – it shows only the current heating mode and the temperature setpoint (only the room temperature, or only the floor temperature). On this screen, the user can only set the preferred temperature unit and language, and can activate the off mode or the timer mode, which will enable a temporary change of the temperature setpoint. All other settings can only be changed by the building administrator via a mobile application. It is necessary to unlock the full thermostat menu if one wishes to deactivate Professional Mode.
One of the features of Professional Mode will be, in the case of interest, the option of having a simple company logo uploaded as a screen saver for a given group of thermostats – the logo needs to be provided in the .bmp format with the dimensions 320 x 240 pixels, together with information about the user's account and installation, enabling the identification of the thermostats to which the logo is to be uploaded.
Collaboration with the Google Home and Amazon Alexa home assistants.
Another, more significant, piece of news is the option of connecting the TFT Wi-Fi thermostat application with the Amazon Alexa and Google Home smart home assistants. This feature provides users of these assistants with the basic option to control their thermostats from one platform. In addition to manual setting via the application, voice control can also be used. Using the assistants, it is possible to switch heating on/off, change the set required temperature, switch between the manual mode and weekly programme mode, and ask about the current temperature in a given room.
To connect thermostats with a smart assistant, you must first create a standard installation in the Fenix TFT Wi-Fi application account. Subsequently, it is possible to search for "Skills" (Amazon Alexa) or "cooperating devices" (Google Home) in the smart assistant's applications – when the access data is entered into the TFT Wi-Fi account, the application will be connected and the linked thermostats will be transferred. All of the Fenix TFT Wi-Fi application's functions will remain active for more detailed adjustments to settings.
We believe that the new features will enable a wider range of uses for Fenix
TFT Wi-Fi thermostats.