A two-year project CAMEB
PROJECT CAMEB – a control algorithm for a superior control unit controlling all technical equipment used in a fully electrified family home built to the nZEB standard, fitted with a rooftop PV system, battery storage system, ventilation with heat recovery and electric radiant heating. A two-year project implemented via cooperation between CTU - UCEEB, Fenix, TECO, S-Power, AERS and WAFE. Project location: OMICE. Investor: Ing. Dalibor Veverka.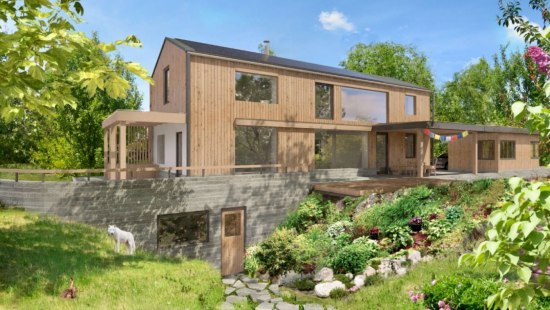 A house in the building envelope quality category A ( u=0.17) , fitted with a 9kWp PV system (S-power), a 2kWh battery storage system ( AERS), an air ventilation unit with heat recovery (WAFE) and electric radiant heating (FENIX). Features a PLC superior control unit (TECO Kolín); the control algorithm was created by UCEEB as part of the project.
On 12.4. 2019, the inaugural meeting of the working group took place at the UCEEB building, during which the investor informed those present about the construction of the family home and details regarding further technical cooperation were agreed. Also, decisions were made concerning shared PR activities performed in order to reinforce the publicity for the project, as well as about the recording of a documentary mapping the whole monitored period of 2 years. The created materials will be shared and used by all of the members of the working group.
In Jeseník, on 15.4.2019
Cyril Svozil