CH 2000B Turbo
Portable convection heater with an option to grade output to 750, 1250 and 2000 W and with a separately switched ventilator to increase dynamics. The heater is not designed for permanent operation, that is why the portable convention heater cannot be used as a main source of heating.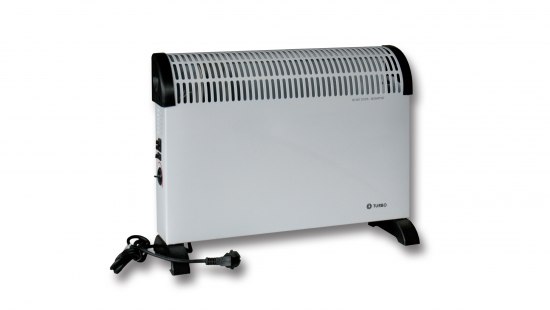 Direct-heating convection heaters
Direct-heating convection heaters
The convector is made from steel sheeting with a white comaxite surface finish; the legs and the top corner grips are plastic. The convector is equipped with an electromechanical thermostat, ventilator and two heating bodies - 750W and 1250W. The heating bodes can be switched on independently and therefore three different outputs can be achieved - 750/1250/2000 W. The operation of the heating bodies isn't dependent on the ventilator; when they are in use, the ventilator can be switched off using an independent switch. The heater is intended for placement on a firm base (floor). The connection lead is fitted with a plug. Obligatory information according to EU Regulation 1188/2015: This product is only suitable for well insulated spaces or occasional use.
CH2000 B turbo
Type
Output
Dimensions
Weight
Qty on pallet
Cat. No.
[W]
[mm]
[kg]
[pcs]
CH 2000B - TURBO
750/1250/2000
580x375x110
4.8
20
5410010
Similar products

ECOFLEX TAC

ATLANTIC F125-D

SOLIUS Digital
Examples of operating costs