Jet Hand Dryer 300
Electric hot-air units with fans - dry hands by hot-air current. Wall-mountable: hygienic operation thanks to the contactless switch.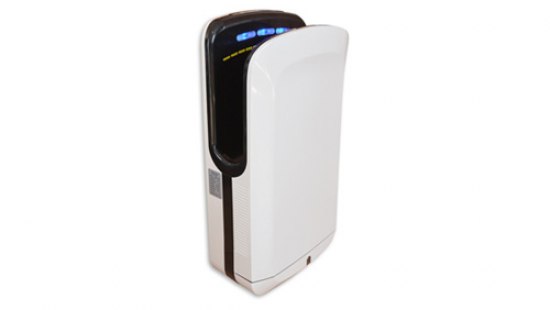 Jet Hand Dryer 300
Jet Hand Dryer 300
JET HAND DRYER 300, a high-performance jet hand dryer, is intended for exposed places (shopping centres, petrol stations, cinemas, theatres, etc.).
The hand dryer case is made of plastic; the heating body has the input of 1800 W. The device is wall-mountable; the supply cord is equipped with a socket plug.
HAND DRYERS
Type
Output
Air temperature
Voltage
Dimensions
Weight
Cat. No.
[W]
[°C]
[V]
[mm]
[kg]
Jet Hand Dryer 300
2000
23
~230 V 50 Hz
566x296x164
6.5
5440012
Similar products

KDO-E ladder radiators

KD-E ladder radiators

Hand Dryers ZY-203
Examples of operating costs