Experiences with the AES battery station in operation
Three owners of the AES home battery station shared their experiences with the battery operating in their family houses.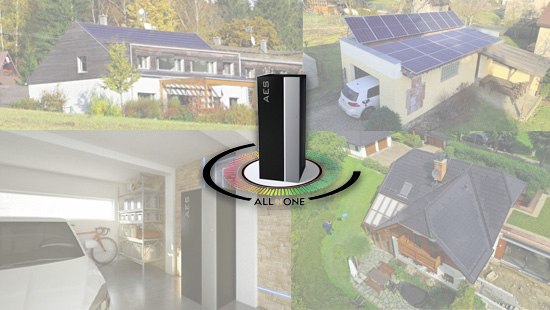 One family house was recently built in a passive standard in southern Bohemia and is used by six people, another has already been renovated in Rokycany and serves to a family of four, the third one  in Jeseník is being modernized now and two people live there. Nevertheless, all three have something in common - a photovoltaic power plant on the roof and AES battery stations from AERS successfully working for several months as a trial in their garage or technical room.
We asked all three owners three identical questions:
Why did you choose a battery station and what do you expect from it?
Why did you choose the AES battery station?
What is your experience with the operation of the station?
Pavel is the owner of a three-generation two-storey family house with a usable area of approximately 200m², built in a passive standard and permanently inhabited and used by six people.
1. In winter, we often have to deal with the risk of power outages. For a fireplace insert with an exchanger and a circulation pump, power failures are dangerous and can totally damage the pump. Outages are relatively common, although they do not last long (from one to four hours, exceptionally even longer), but they are a complication. On the contrary to the very low energy consumption for heating, the house has a relatively high energy consumption for usual operation of appliances - about 25 kWh per day - and any outage is an inconvenience both for the circulating pump of the fireplace insert and for all residents of the house. Saving energy was not my primary goal. My pension insurance ended and I was able to consider what to do with the money I saved. It didn't make sense to let them "work" within current financial funds, I didn't want to go into more attractive, but risky returns, and conservative funds today have even negative returns. It made more sense for me to put my money into this technology and increase my family's comfort while saving on the operation of the house. Even with relatively high prices for solar bags and for the battery station, it pays off for me, the annual appreciation is about 5%. And I'm not talking about the comfort which combination of photovoltaic panels and batteries give to us. Additionally, I have this "financial instrument" on my own roof and in my house.
2. I follow new technologies and I'm a fan of them, so I knew what a home battery station can do and what it can offer to the owner. I started to choose suppliers, and of course came across a number of foreign battery stations as well as domestic manufacturers. In the end, after considering all the parameters, I preferred the AES station from AERS. I liked their innovative technical solution (eg the possibility of supplying up to 32 A current in one phase) and the Czech concept. As a local patriot in recent years, I appreciate this factor a lot and I prefer Czech products. People from AERS also made a very good impression, I liked their solution and approach and I am convinced their product is very promising.
3. Even after a year of operation, I am satisfied with the choice. The battery works reliably and fulfills everything I expected from it.
Petr is the owner of a reconstructed family house. Home battery is also connected to the rooftop photovoltaic power plant and, in addition to normal household operation, is a useful helper in charging the Volkswagen e-Golf electric car. There is a family of four living in the house, being the ordinary household of our current middle class.
1. For me, it was an investment in the future. The lifespan of today's panels is at least around 20-30 years, the battery lifespan is about 15 years and more, so the combination of photovoltaics and batteries will reduce my electricity bill, give me some independence, security of electricity supply in case of outage, and moreover will reduce the cost of operating a modern eco-friendly car.
2. As a manager, I work professionally in the field of solar energy and battery storages, so I am not a layman who relies on advertisements from individual suppliers. I knew the creator of this Czech solution and I knew what battery stations from AERS can do.
3. So far it makes me very happy. Surpluses from the photovoltaic power plant go to the battery, the boiler and especially to the electric car. It makes perfect use of excess energy and in combination with it, the operation of PV and home batteries is significantly more efficient. Representatives of Škoda Auto were in our house to check the real operation of the battery station and were excited about it. Charging the car works very well - when I return home, I connect the car for charging and when the sun is shining, my E-Golf is charged directly from the photovoltaic power plant. Then it "waits" for the night tariff and at night it is recharged from the night tariff and from the battery supply. There was no problem with the installation of the battery station either - I placed it in the garage and here it has proved its worth so far. It has a size of a usual refrigerator and we had space for that in the garage. This location seems ideal to me, because the station here does not bother anyone with its operation. We had to adjust the main electricity supply and, of course, install PV panels on the roof, but this was not a problem for the implementation company.
Cyril Svozil, owner and founder of Fenix ​​Group, which also includes the manufacturer of the AES battery stations, company AERS. In Jesenik he has a two-storey low-energy family house with a basement built in 2001, where he lives together with his wife. Last year a photovoltaic power plant was installed on the house, this year a new bedroom with a bathroom, a workroom and a wine bar were added, and an outdoor swimming pool and kitchen are being built next to the house.
1. The operation of a photovoltaic power plant, battery storage and electric radiant heating, which of course heats our family house, was tested by our company at the Fenix ​​office building in Jeseník. And those results were positive in all aspects. I consider a home battery station as an investment in the future. My wife and I are of pre-retirement age and in the near future will certainly appreciate the lower costs of running the house. Summer surpluses from the photovoltaic power plant can be used to heat the outdoor pool. In addition, the knowledge gained in real operation will contribute to the popularization of the triple combination PV plant-battery station-electric radiant heating, which I absolutely believe for a long time already.
2. I purchased the AES battery station based on my long tradition of offering to the  customers only products I verified on myself.
3. The experience so far is very positive. In addition to reducing consumption, PV and batteries bring us the certainty of independence in the electricity supply. We also had a 6 hours short-term outage and the battery reliably ensured the operation of the entire household.
More information about the AES home battery station can be found at www.aers.cz.
Source: Marketing Communication