Grand Prix for HES station
FENIX won the prestigious Grand Prix award for its "smart" energy storage HES at FOR ARCH 2022, international building fair that was held recently.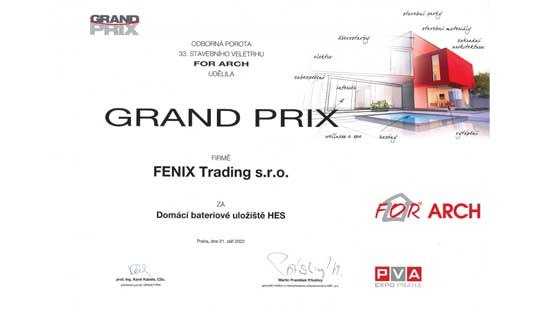 Within the international FOR ARCH building fair, expert jury selects the best news in the building sector every year. Winning exhibits or technologies receive prestigious Grand Prix award. This year FENIX took part in the competition in the 33rd annual FOR ARCH with its HES energy station. The fair was held at the PVA Letňany Exhibition Centre from 20th to 24th September 2022.
The jury awarded a total of four products, including the HES station, from different construction industry sectors. At the GRAND PRIX award ceremony, expert jury's evaluation stating the main advantages of the product was quoted: "A timeless system integrating storage and management of electrical energy from different sources, software enables spot trading of electrical energy obtained from the grid or photovoltaic power plant, the equipment makes secondary use of automotive batteries".
The GRAND PRIX award is the second prestigious award that the FENIX energy concept and HES station have received; the first one was the main ČEEP 2021 Innovation Award. These awards confirm uniqueness and prospect of the solution for efficient management of electrical energy that is essential in the future.
Grand Prix for HES station - PDF download.