Thermostat Fenix TFT Wifi
Fenix's best-selling thermostat has long been the very popular Fenix TFT with a colour touch screen, which was introduced back in 2012. The requirements of users are ever-changing, however, and the demand for a simple but smart device for electric heating regulation has been steadily increasing. It was a logical step to commence the development of a new type, the Fenix TFT Wifi.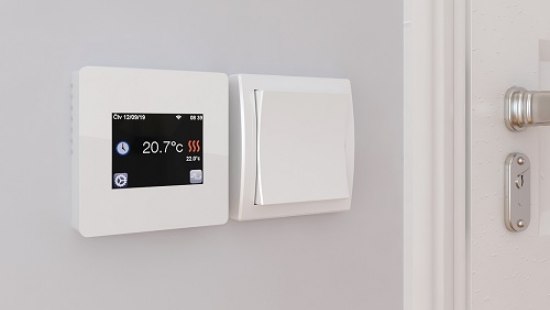 The new TFT Wifi thermostat has retained all the proven features of the original TFT, so it can be fully utilised as a local thermostat for all electric direct heating systems. The first significant change, visible at first glance, is in the design of the thermostat itself – the plastic frame with a window for the display has been replaced by an all-glass front panel available in white or black. This redesign has given the thermostat a cleaner and more modern appearance. You will also notice a change in the thermostat menu icons, and there's a choice between black and white as the display background colour.
However, a more important improvement is the option of controlling the thermostat remotely after connection to the Internet. For this purpose, a mobile application has been created (available for phones with iOS or Android operating systems) via which the user can connect individual thermostats to their account. The application then works as a kind of virtual central unit which enables thermostats to be controlled individually, or an entire system to be controlled as a whole. The application allows the user to change thermostat operating modes, change the setting of the required temperature, create and edit programmes, set holiday mode and also monitor the consumption history of individual rooms. Thermostats connected to an account do not lose any functionality, so they can still be fully controlled in the standard way. The connection of the thermostat to the internet also enables its software to be continuously updated – future improvements and alterations thus become available to users immediately.
The only thing needed to have access to remote thermostat management is a home WiFi network. No other special preparation is necessary, and the installation takes place in the same way as with any other standard room thermostat. The Fenix TFT Wifi thermostat will thus certainly find a wide range of applications, e.g. in holiday homes, as an alternative to more expensive and complex central systems, or purely as a smart solution to flexible home heating regulation which significantly enhances user comfort.