Trial operation of a new production line launched!
We are happy to announce that new production equipment for ECOSUN radiant panels has been in operation since the beginning of this year.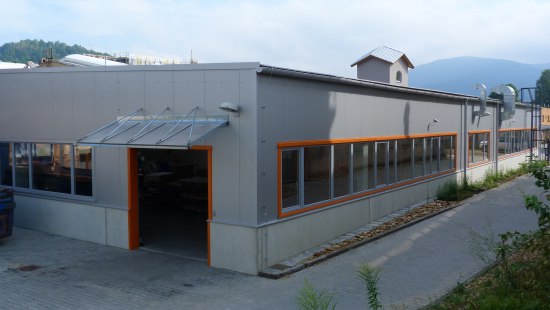 In April 2014, we launched our largest ever single investment – the modernization of ECOSUN radiant panel production. Even though ECOSUN radiant panels are our oldest group of products, their popularity has been growing worldwide and their sales are increasing the fastest of all the products in our range.
For this reason we decided to set up a new, modern production facility with an area of 1500 m². The first stage, completed in the last quarter of 2014, included the construction of a new production hall and the reconstruction of an older building. That reconstruction included the creation of a product testing room with an environmental chamber. This is an essential step in the process of continuously improving the efficiency of our products and developing new ones which bring comfort to your home and workplace, as well as places where you spend your free time.
The continuous growth all over the world in the demand for heating panels, thanks to their high quality and versatility, has forced us to establish our own modern production plant for metal parts, which were formerly purchased. Thanks to this expansion of our production capabilities, we are able to react to any demand very flexibly while maintaining the highest possible quality.
We began manufacturing metal parts for the production of radiant panels in August 2015. Practically at the same time as the installation of metal parts production equipment, we started building a robotized automatic coating line featuring unique sandblasting technology (now in trial operation) and an automated assembly line. The coating line is fitted with two handling robots by the Japanese manufacturer Nachi and one Swiss-made Schäubli coating robot.
The assembly line has been developed specially according to our production requirements, with an emphasis on the removal of the need to manually handle heavier loads, and on the easy flow of product through the whole production process. Right now, both lines will enable us to more than double our current production, and what is more important, provide another opportunity for fast growth in the future.
With regard to the change in coating technology and the use of powder paints, the white colour of radiant panels will be changed – colour RAL 9016 on the RAL colour chart will now be used.