KH-E ladder anthracite
The KH-E heating ladders, offered in black anthracite, bring a modern and stylish design of sharp angular curves as an elegant complement to the bathroom interior.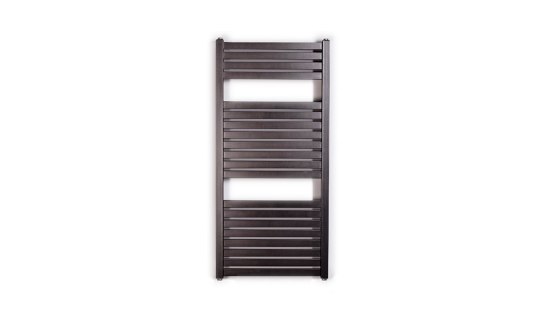 KH-E Ladder 490/970 anthracite
KH-E Ladder 490/970 anthracite
Electric heating ladders are the most commonly used supplementary heater among bathroom radiators. The elegant and subtle design does not disturb the interior and the radiators simultaneously provide a practical drying function and a heat source for a comfortable and pleasant climate in your bathroom.
Type KH-E is a new type of heater, designed with an emphasis on modern elements of sharp angular curves. The elegance of this model is underlined by the dark anthracite grey colour in which it is offered.
The heaters are filled with antifreeze up to -5 °C, the 1 m long (3.5 m unwound) twisted power cord is equipped with a UniSchuko plug. Brackets for hanging the heater are included.
WARNING:
This product belongs to the category of controlled heaters. According to Commission Regulation (EU) 2015/1188 concerning Ecodesign requirements for space heaters, controlled heaters must be controlled by an external control device (thermostat), which is not part of the product and which complies with the above mentioned Regulation.
KH-E - flat heating elements
Type
Output
Voltage
Width
Height
Depth
Weight
Cat. No.
[W]
[V]
[mm]
[mm]
[mm]
[kg]
KH-E
KH-E 450 x 970
300
230 V / 50 Hz
450
970
60
11.0
5441432
KH-E 600 x 970
400
600
970
13.4
5441434
KH-E 450 x 1330
400
450
1330
14.5
5441436
KD-E 600 x 1330
600
600
1330
18.0
5441438
Similar products

KD-E ladder radiators

KDO-E ladder radiators

Hand Dryers ZY-203
Examples of operating costs