Thermostat FENIX TFT WIFI
Integrated Wi-Fi module for connection to a home network, remote control via a cloud server (iOS / Android application), colour touch screen.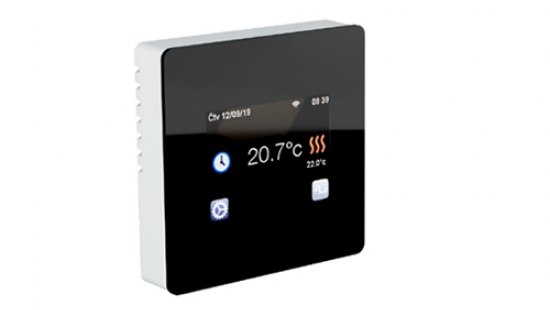 Thermostat FENIX TFT WIFI
Thermostat FENIX TFT WIFI
User-selectable temperature scanning – room only, floor only, or both values, PWM regulation or fixed temperature diff erence. Week programme – 4 preset programmes, 3 user programmes (up to 10 temperature changes per day), holiday mode, manual control, anti-freeze protection and complete shutdown available. Display lock, operating hour counter, open window function, sensor calibration option. 3 m floor probe included with the product. For attachment to a KU 68 wiring box. Watch a video tutorial on setting up a TFT wifi thermostat with Alexa and Google Home voice assistants.
Fenix TFT WIFI
| | |
| --- | --- |
| Rating: | IP 21 |
| Switched current: | 16 A |
| Temperature range - room: | 5 … 35 °C |
| Temperature range - floor: | 5 … 45 °C |
| Temperature attenuation: | Via time programming |
| Heating indicator light: | On display |
| Hysteresis: | 0.5 K |
| Switch: | No |
| Colour: | white (4200143), black (4200142) |
Similar products

FENIX TFT-2

FENIX TFT

Watts V24 central unit
Examples of operating costs