Eberle FIT 3U
Combined digital thermostat with PWM and the option of room temperature / floor + room/ floor only operating mode selection.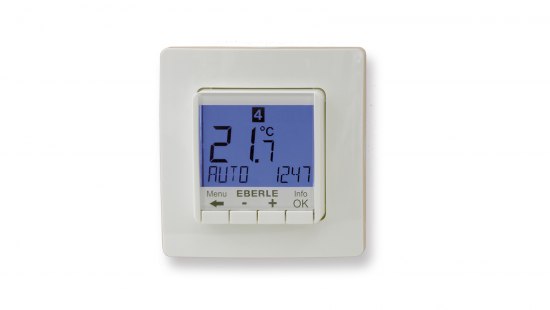 Thermostat Eberle FIT 3U
Thermostat Eberle FIT 3U
A week-long programme with individual settings for each day, up to 9 changes of temperature per day, "PARTY" mode – short-term maintenance of a set temperature with an automatic return to the programme, "HOLIDAY" programme – permanent attenuation for a set number of days with automatic return to the programme, anti-freeze protection. Other thermostat functions: child lock, automatic change to/from summer time, counting of operating hours (last 2 days/week/year), optional limitation of manual temperature correction, setting of min. and max. floor temperature, easy-to-read LCD display with blue backlight with CZ menu, data and programme back-up for 10 years. A floor probe is part of the package, placement on a KU 68.
Eberle FIT 3U
| | |
| --- | --- |
| Rating: | IP 30 |
| Switched current: | 16 A, max. 2 kW |
| Temperature range - room: | 5 … 30 °C |
| Temperature range - floor: | 10 … 40 °C |
| Temperature attenuation: | Via time programming |
| Heating indicator light: | On display |
| Hysteresis: | 0.5 K |
| Switch: | no |
Similar products

FENIX TFT

VTM 3000

FENIX TFT-2
Examples of operating costs