FENIX TFT-2
Colour touch screen (optional background colour); the outer white cover is composed of two exchangeable parts (frame/cover) which enable the colour of the thermostat to be changed.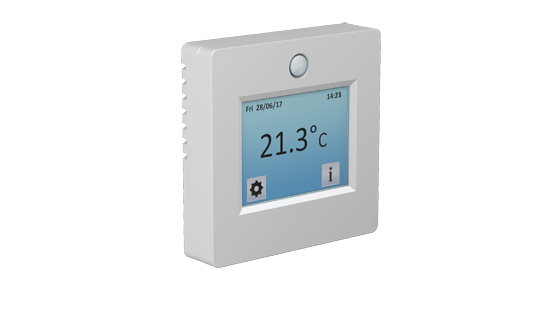 Thermostat TFT-2
Thermostat TFT-2
Reads the temperature of the room, the floor or both values simultaneously; "intelligent start" function. Weekly programmes – 4 predefined, 3 user-determined (up to 10 temperature changes per day). Other modes: holiday, manual control, antifreeze protection, complete shutdown. Counting of operating hours, "open window" function, occupancy sensor. 16A switching contact; IP 21 rating; 3m floor probe included with the product. Placement on KU 68, programme backup using a high capacitance capacitor.
Simple application for color choice….
Fenix TFT-2
| | |
| --- | --- |
| Rating: | IP 21 |
| Switched current: | 16 A |
| Temperature range - room: | 5 … 35 °C |
| Temperature range - floor: | - |
| Temperature attenuation: | Via time programming |
| Heating indicator light: | On display |
| Hysteresis: | 0.5 K |
| Switch: | no |
Similar products

FENIX TFT

Watts V24 central unit

Thermostat FENIX TFT WIFI
Examples of operating costs