HEAT-PAK
The HEAT-PAK mat is intended to be used in combination with ECOFILM heating foil for installation under a carpet or PVC – usually in places where it isn´t possible to place the heating cable into screed (e.g. installation onto an already-completed floor, or as part of reconstruction work).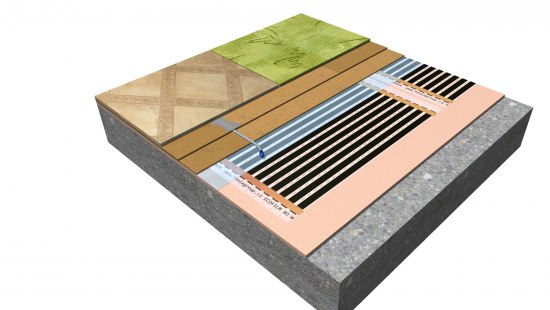 HEAT-PAK Underlay
HEAT-PAK Underlay
ECOFILM heating foils work with an operational voltage of 230V and, due to safety reasons, a soft floor covering cannot be laid on them. However, the HEAT-PAK underlay has very good thermal conductivity and simultaneously the required rigidity and therefore it can be laid onto the heating foil, thus creating a protective layer between the heating foil and the floor covering. It is therefore intended to be combined with an ECOFILM heating foil installation under soft coverings (e.g. carpet, vinyl, PVC etc.) – usually in places where a heating cable can not be placed into the screed (e.g. retrofitting, reconstruction).
HEAT-PAK underlays are distinguished by the completely dry method of their installation, with the floor structure being raised by only 7mm. The product package contains 8 boards (four 3mm thick base boards + four 4mm thick covering boards); each of them furnished with a thin layer of glue. The boards are laid and glued together in two layers (staggering of joints is necessary so that the joints do not show through on the floor covering). After completion a rigid, compact structure is created onto which the selecteed covering can be laid (freely or glued).
HEAT-PAK
Type
Thickness
Bulk density
Thermal conductivity coefficient
Strength in flexure
Dimensions
Packaging
Cat. No.
[mm]
[kg/m³]
[W/mK]
[kg/cm²]
[m]
[m²]
HEAT-PAK 7
3 + 4
770
0.15
>40kg/cm²
boards 0.6x1.2
2.88 m²
5442024
Similar products

ECOFILM F - foils for floor heating

STARLON

F-BOARD