VTM 3000
Combined digital thermostat with PWM and the option of room temperature / floor + room / floor only operating mode selection.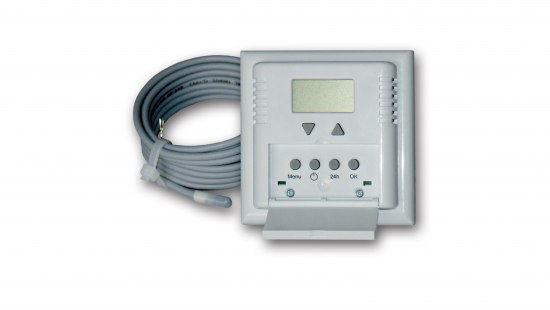 Digital thermostat VTM 3000
Digital thermostat VTM 3000
Selection of a weekly or daily programme, two pre-set temperatures (comfort / attenuation), switching between these temperatures up to 6 times per day. Manual temperature change option with an automatic return to the programme. Other thermostat functions: permanent maintenance of comfort or attenuation temperature, anti-freeze protection, permanent maintenance of manually set temperature (simulation of an analogue thermostat), setting of the max. and min. floor temperature, key lock, counting of operating hours. Data and programme backup in the EEPROM memory (up to 10 years), time and date back-up with the help of a large-capacity capacitor – length of back-up 6 hours. Floor probe is part of the package, placement on a KU 68.
VTM 3000
| | |
| --- | --- |
| Rating: | IP 31 |
| Switched current: | 16 A |
| Temperature range - room: | 5 … 35 °C |
| Temperature range - floor: | 5 … 45 °C |
| Temperature attenuation: | Via time programming |
| Heating indicator light: | On display |
| Hysteresis: | 1 °C |
| Switch: | Yes |
Similar products

FENIX TFT

Eberle FIT 3U

FENIX TFT-2
Examples of operating costs