ECOSUN S+ Anticor
These are ECOSUN S+ panels fitted with a special two-layer coating of powdered plastic intended for outdoor environments and with high resistance to corrosion. The panels are intended for environments where there is a danger of corrosion (air with a higher content of humidity, salts, etc.).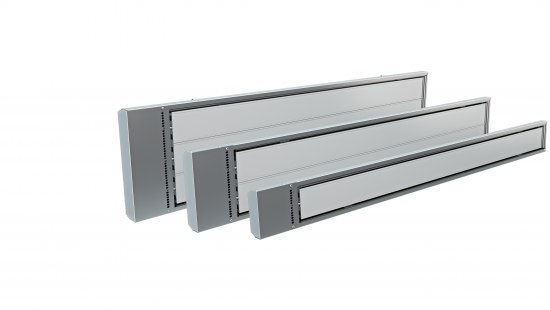 Ecosun S+ Anticor trio
Ecosun S+ Anticor trio
The structure and technical parameters of these panels are identical with those of ECOSUN S+ panels. The panels have two coatings intended for outdoor environments which are applied to sheet metal components made of AluZinc. Also, the connecting material is made from the same material and therefore no electrochemical reaction and corrosion of parts can take place. If corrosion should happen in any case, and the connecting parts of the panels were to loosen, the panel is structurally designed in such a way that the inner panels have a security lock preventing them from falling out. Tilting brackets which enable the installation of panels at an angle and protective grilles can also be purchased. 
Type
Output
Voltage
Rating
Dimensions
Weight
Recommended installation
Qty on pallet
Cat. No.
[W]
[V]
[IP]
[mm]
[kg]
[pcs]
ECOSUN S+ 09 Anticor
900
230
IP 44
1550x150x60
7.2
According to individual conditions,
for full area
5 - 8 m,
zonal 3.4 - 4.5 m
58
5401552
ECOSUN S+ 12 Anticor
1200
5401554
ECOSUN S+ 18 Anticor
1800
230 / 400 2N
1550x250x60
11.6
39
5401556
ECOSUN S+ 24 Anticor
2400
5401558
ECOSUN S+ 30 Anticor
3000
230 / 400 3N
1550x350x60
16.0
26
5401560
ECOSUN S+ 36 Anticor
3600
5401562
| Type | Cat. No. |
| --- | --- |
| Tiltable bracket for ECOSUN S+ | 5401785 |
| Tiltable bracket for ECOSUN S+ Anticor (RAL 9002) | 5401787 |
Similar products
ECOSUN S+

ECOSUN S+ Short

Terrace Heater ECOSUN TH
Examples of operating costs