ECOSUN U/U+, VT, Basic
Versatile radiant panels intended for residential as well as non-residential spaces, for installation on ceilings and suspended ceilings. They are suitable mainly for the heating of offices, shops, flats and family homes.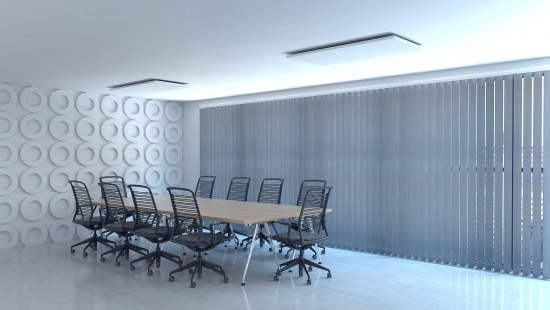 ECOSUN U
ECOSUN U
From the point of view of installation, heating panels should ideally be installed in a horizontal position just under the ceiling structure or directly within it (suspended ceilings). This position allows the highest solar radiation efficiency and intensity to be achieved. When heating panels are installed in the vertical position, the transferred energy isn´t lost; the proportion of heating via convection is merely higher. Ecosun U+ are fitted with thermo-fuse, which enable installation both on the wall (vertically) and on the ceiling (horizontály). Ecosun VT radiant panels are intended exclusively for use in suspended ceilings as semi-flush ceiling tiles. ECOSUN BASIC is the "smooth" versions of ECOSUN U+ panels. The Basic panel type doesn´t have the Thermocrystal surface finish, only a resistant white powder plastic coating with an orange peel structure. The absence of the Thermocrystal surface finish results in a partial decrease in the radiant component in favour of convection heat transfer. However, the smooth surface is considerably easier to maintain and clean. ECOSUN Basic is therefore particularly suitable for health care institutions or for users with asthma problems or allergies.The standard panel colour is white. Other colors possible according to the RAL sampler. Assortment of radiant panels is complemented with ALU frame to frame the peripheral edges of the panels, Flush mount frame for installation of panels into plasterboard and gypsum ceilings and Cable suspension system.
Similar products

ECOSUN K+
Examples of operating costs