FENIX TFT
A programmable touch-screen thermostat suitable for electric radiant floor and ceiling heating. Features a large number of properties accessible via the simple interface of its touch-screen display – an easy and clear way of setting the required functions for the optimization of heating comfort and minimizing operating costs.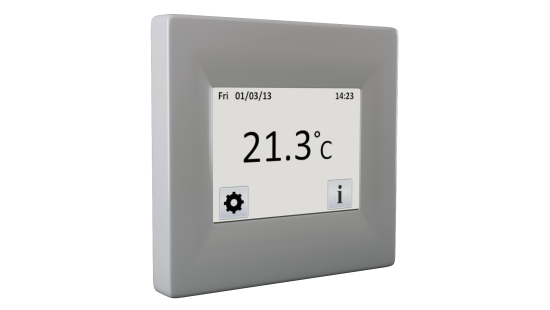 Touch-screen thermostat FENIX TFT
Touch-screen thermostat FENIX TFT
A digital thermostat with a touch-screen display, the option of choosing a coloured background, CZ menu. Operating modes "floor only", "room only", "floor + room", the option of measurement using two external (floor) probes, PWM (PID) regulation or fixed temperature difference. 4 pre-set programmes, 3 user programmes (10 temperature changes in 15 minute steps, the shortest time period being 1 hour), Modes: according to the programme, manual mode, holiday, party, non-freezing temperature, switched off. Switching contact 16A, range of temperature settings 5…35°C in 0.5°C steps, the option of setting a min and max floor temperature, calibration of sensors. A floor probe is included with the thermostat, installation on KU/KP 68. Rating IP 21.
| | |
| --- | --- |
| Rating: | IP 21 |
| Switched current: | 16 A |
| Temperature range - room: | 5 … 35 °C |
| Temperature range - floor: | 5 … 45 °C |
| Temperature attenuation: | Via time programming |
| Heating indicator light: | On display |
| Hysteresis: | 0.5 K |
| Switch: | no |
Description
Amount supplied
Cat. No.
Digital programming thermostats
FENIX TFT WIFI Black
1 pcs
4200142
FENIX TFT WIFI White
1 pcs
4200143
FENIX TFT
1 pcs
4200152
FENIX TFT-2
1 pcs
4200156
Silver front cover for the FENIX TFT-2
1 pcs
4200157
Black front cover for the FENIX TFT-2
1 pcs
4200158
Red front cover for the FENIX TFT-2
1 pcs
4200159
Silver body frame for the FENIX TFT-2
1 pcs
4200160
Black body frame for the FENIX TFT-2
1 pcs
4200161
Red body frame for the FENIX TFT-2
1 pcs
4200162
Eberle FIT 3U
1 pcs
4065005
VTM 3000
1 pcs
4200134
HT-600
1 pcs
8520005
T-Sense OLED Bluetooth
1 pcs
4200119
Analog thermostats
EBERLE RTR - E 6124
1 pcs
4066020
FENIX-Therm 105
1 pcs
4200122
Wireless regulations
Watts V22
1 pcs
4500410
Watts V23
1 pcs
4500413
Watts V24
1 pcs
4500408
Watts V24 - WiFi
1 pcs
4500409
Watts V25
1 pcs
4500416
Watts V27
1 pcs
4500422
Watts floor probe
1 pcs
4200129
WS-1 set
1 set
4500419
Eberle RTR-E 3521
1 set
4066018
Eberle ARA 1E
1 set
4065220
Industrial room thermostats
EBERLE AZT - A 524510
1 pcs
4066010
EBERLE AZT - A 524410
1 pcs
4066005
EBERLE AZT - I - 524510
1 pcs
4066012
EBERLE AZT - I - 524410
1 pcs
4066007
Industrial thermostats with separate sensor
EBERLE UTR/60
1 pcs
4066037
EB-Therm 800
1 pcs
4200170
LT for EB-Therm 800
1 pcs
4200171
HT for EB-Therm 800
1 pcs
4200172
Room sensor for EB-Therm 800
1 pcs
4200173
EBERLE UTR/60
1 pcs
4066037
EBERLE F 891 000
1 pcs
4066137
EBERLE F 892 002
1 pcs
4066138
EBERLE F 893 002
1 pcs
4066139
EBERLE F 897 001
1 pcs
4066140
BMR DTR01
1 pcs
4200052
Controllers for guttering and outsi de surface heating
Eberle EM 524 89
1 pcs
4600015
Eberle EM 524 90
1 pcs
4600016
EBERLE sensors for eaves troughs
1 set
4600051
EBERLE ground sensors
1 set
4600050
EBERLE DTR-E 3102
1 pcs
4066038
EB-Therm 800
1 pcs
4200170
LT for EB-Therm 800
1 pcs
4200171
HT for EB-Therm 800
1 pcs
4200172
Room sensor for EB-Therm 800
1 pcs
4200173
ETO2-4550
1 pcs
4200020
ETR2-1550
1 pcs
4200022
ETOG-55
1 pcs
4200026
ETOR-55
1 pcs
4200028
ETF-744/99
1 pcs
4200030
Regulators to control attenuation and time programmable switches
DeltaDore DRIVER 620
1 pcs
4100020
Regulators for reduction of main circuit breaker value
BMR HJ 103RX
1 pcs
4200033
BMR HJ 306RX
1 pcs
4200034
Similar products

Watts V24 central unit

FENIX TFT-2

Thermostat FENIX TFT WIFI
Examples of operating costs