Terrace Heater ECOSUN TH
ECOSUN Terrace Heaters are designed for the zonal heating of winter gardens, enclosed and roofed balconies and terraces, garden tents, churches, etc. - i.e., applications where they are protected against direct contact with the effects of the weather.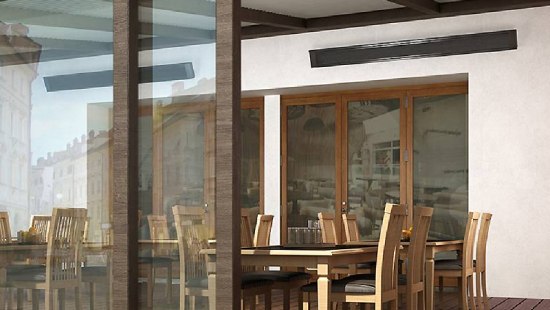 Terrace Heater ECOSUN TH
Terrace Heater ECOSUN TH
Because ECOSUN TH panels have a significantly lower surface temperature than halogen heaters, they do not radiate unwanted light when in operation. On the other hand, halogen heaters are able to operate at lower ambient temperatures. It is realistically possible to use panels at temperatures as low as +5 to +10°C; at lower temperatures the lamellas will become very cold and the heat they radiate will be almost unnoticeable. The body of the ECOSUN TH 2000 and 3000W radiant panels is made of aluminum. By changing the body material, the weight of the skeleton structure for these two types was reduced by 40%, without affecting its functionality. Two aluminium heating lamellas are placed in the aluminium bodywork. The surface of the slats is painted with a special black matte paint that is suitable for painting high-temperature panels. This coating has anti-corrosion features and high emissivity. The surface of panels and heating lamellas is matt black in colour and the panels are equipped with a two-metre connection cable with a plug. The panels also come with tiltable mounting brackets for wall mounting at an angle. The minimum height at which such panels can be installed is 1.8m above the floor (the lower edge of the panel); for panels installed on the ceiling there must be a min. gap of 30cm between the ceiling and the upper edge of the panel.
ECOSUN TH
Type
Output
Voltage
Rating
Dimensions
Weight
Recommended clearance
Qty on pallet
Cat. No.
[W]
[V]
[IP]
[mm]
[kg]
[m]
[pcs]
TH 10
1000
230
IP 45
1080 x 140 x 45
4.9
min. 1.8 m
68
5401350
TH 15
1500
1580 x 140 x 45
6.9
68
5401353
TH 20
2000
230
IP 45
1080 x 240 x 50
5.8
min. 1.8 m
39
5401366
TH 30
3000
230
IP 45
1585 x 240 x 50
8.3
min. 1.8 m
39
5401368
Group bracket for 2 x TH
5401779
Protective grille for TH 1000
5401781
Protective grille for TH 1500
5401782
Similar products

ECOSUN S+ Anticor
ECOSUN S+

ECOSUN CH
Examples of operating costs