Glass radiant panels GR, GR+
Glass as a material is a highly aesthetic and timeless addition to any interior space, and therefore it is intended not only for the heating of family homes and apartments but also for various formal interiors, halls or modern offices.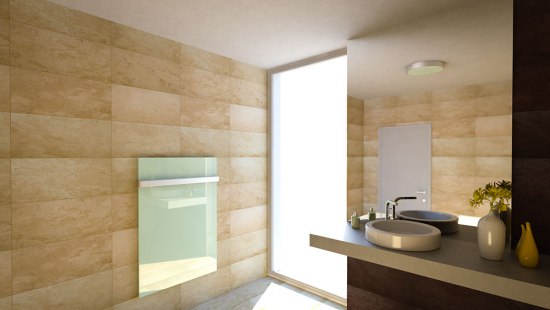 Glass radiant panels GR
Glass radiant panels GR
GR panels are produced from 12 mm thick tempered glass (mirror 8 mm), a heating element, a limiting thermostat and a supply cable. Standardly, they are intended for fixed installation on a wall with the supply lead connected to a wiring box. The panels can be hung both width-wise and height-wise; mounting brackets are part of the packaging. The panels are produced in several colour versions. The operation of the heating panels should be controlled using suitable regulation. Glass colours: White, black, yellow-green, red and mirror.
The GR+ panel is a standard GR glass panel but it has an integrated Watts wireless receiver. This means that a Watts V22 wireless thermostat has to be purchased in order to operate the panel. However, one shared V22 thermostat is sufficient to control up to 4 panels in one room, which is why it should be ordered independently. Wall brackets are included with the product, but fasteners (wall anchors, screws) are not, as they need to be chosen according to the type of installation.
Similar products

ECOSUN GS, GS with print

ECOSUN CR
Examples of operating costs